At 19:15 local time today the 33 remaining skippers will start the final stage of La Solitaire du Figaro. Forecast light and unstable winds have forced the race director to reduce the course by 100 nautical miles to just 83 with a circumnavigation of Ile d'Yeu and a northern offshore mark. After three hard and trying stages, the solo sailors will have to draw on their last resources for this Leg, before confirming the overall winner of this 51st edition, full of twists, turns and suspense.
13th in the overall ranking, an apprehensive Phil Sharp looks ahead to this final race:
"I've never seen a forecast so light an unpredictable for a race, effectively there is just 1-6 knots predicted – an ocean racer's nightmare!
"Light winds is not my area in this Figaro 3, as quite simply I have not had the opportunity to tune the boat in these conditions, and the competition is seriously quick in comparison. This makes me a little apprehensive as of course I want to better my previous result. I would be happy to leave this event with a top-ten result, but at the same time, so would the rest of the fleet and I know that everyone will be fighting until the bitter end on this final showdown.
"The race could see some serious separation in the fleet where some boats may just catch localised winds and others, left behind. The last race showed just how much the tables could turn, so there is still a huge amount to play for in the overall rankings.
"It's going to be an exhausting Leg, but I'm looking forward to getting back out there and seeing how this plays out, Phil"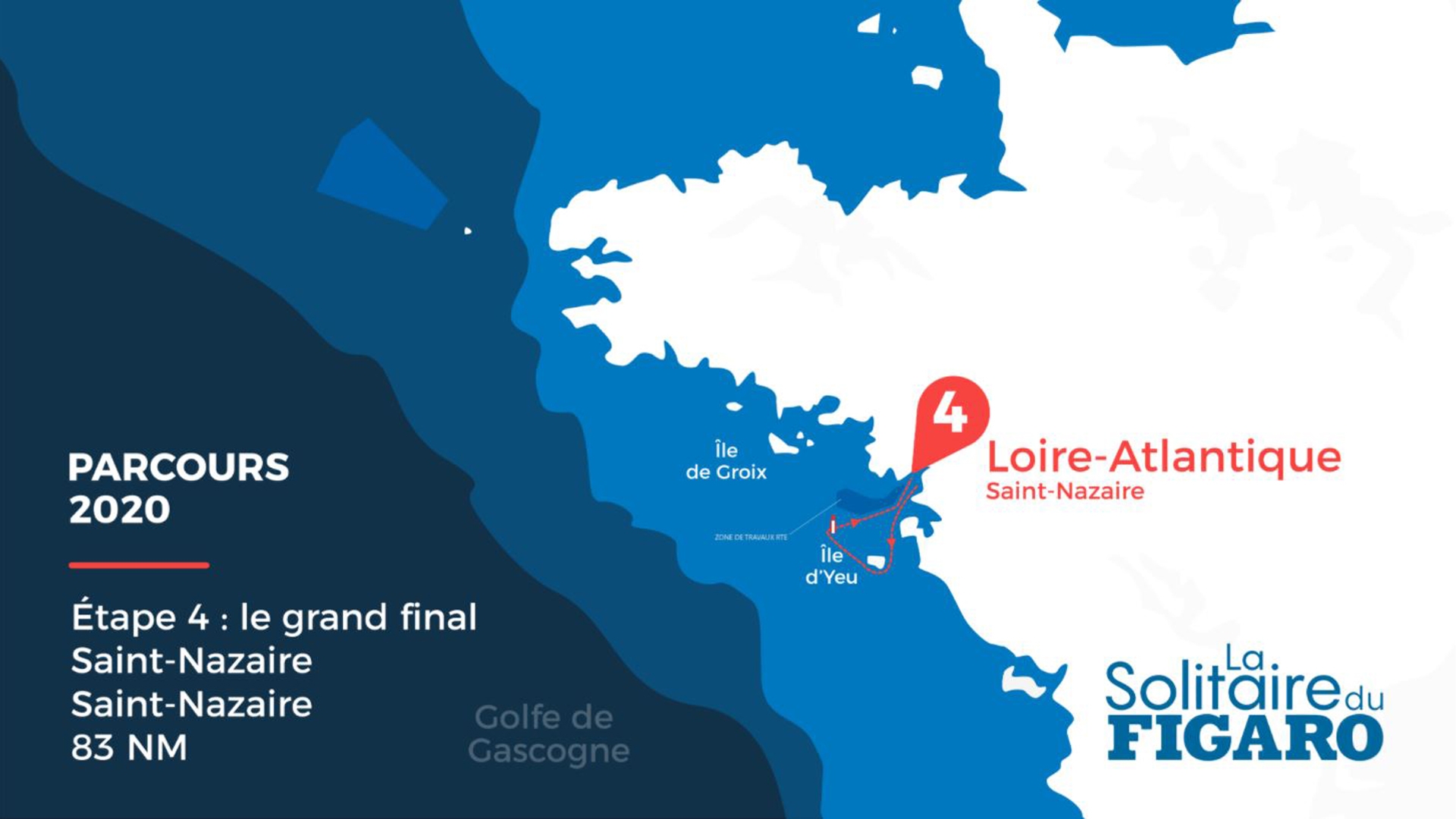 La Solitaire du Figaro – Stage 4 race route
How to Follow
Follow Sharp's journey as he takes on what has been referred to by Vendée Globe winners as the hardest race in the world, La Solitaire du Figaro.
Schedule
Leg one:
Saint Brieuc – Fastnet Rock – Saint Brieuc
Sunday 30th August 13:00 CEST – Thursday 03rd September
642 nm
Leg two:
Saint-Brieuc – Dunkerque (route amended due to weather)
Sunday 06th September 11:00 CEST – Wednesday 09th September
404 nm
Leg 3: slight amendment
Dunkerque – Saint-Nazaire
Saturday 12th September 16:00 CEST – Wednesday 16th September (amended)
492 nm
Leg 4:
Saint-Nazaire – Saint-Nazaire
Saturday 19th September 19:15 CEST – Sunday 20th September (amended)
83 nm