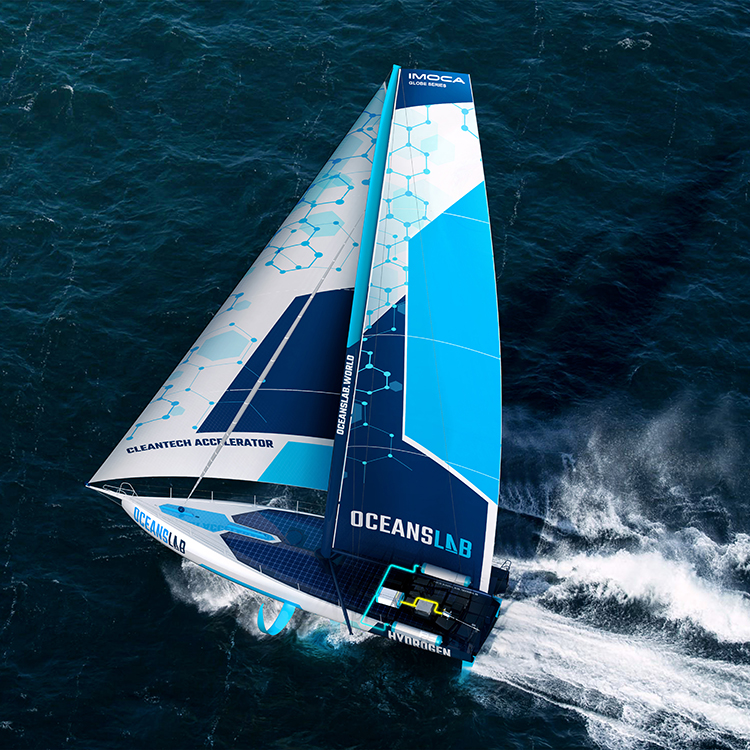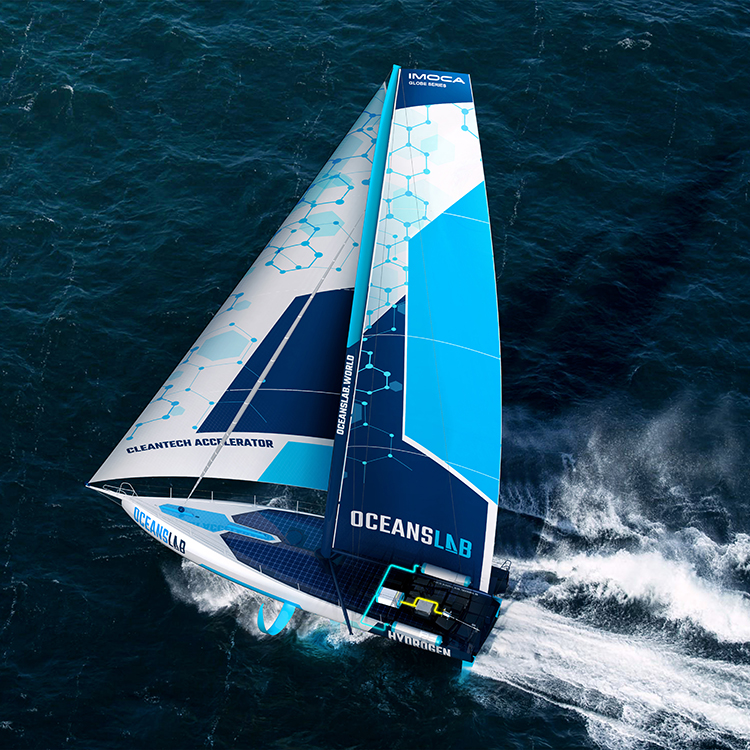 World first fully-integrated hydrogen race yacht
The OceansLab yacht is a cutting-edge 60 foot IMOCA designed to race around the world. The boat, a Manuard design, is engineered for speed and resilience to take on the infamous 'Roaring Forties' of the Southern Ocean. Uniquely, OceansLab will be the first to sail without fossil fuels on board using an innovative hydrogen-electric system integrating a hydrogen fuel cell, green hydrogen, solar PV, hydrogenerators and lithium-ion batteries.
This innovative project accelerates cleantech in the ocean going environment by demonstrating the performance and sustainability advantages of renewable energy.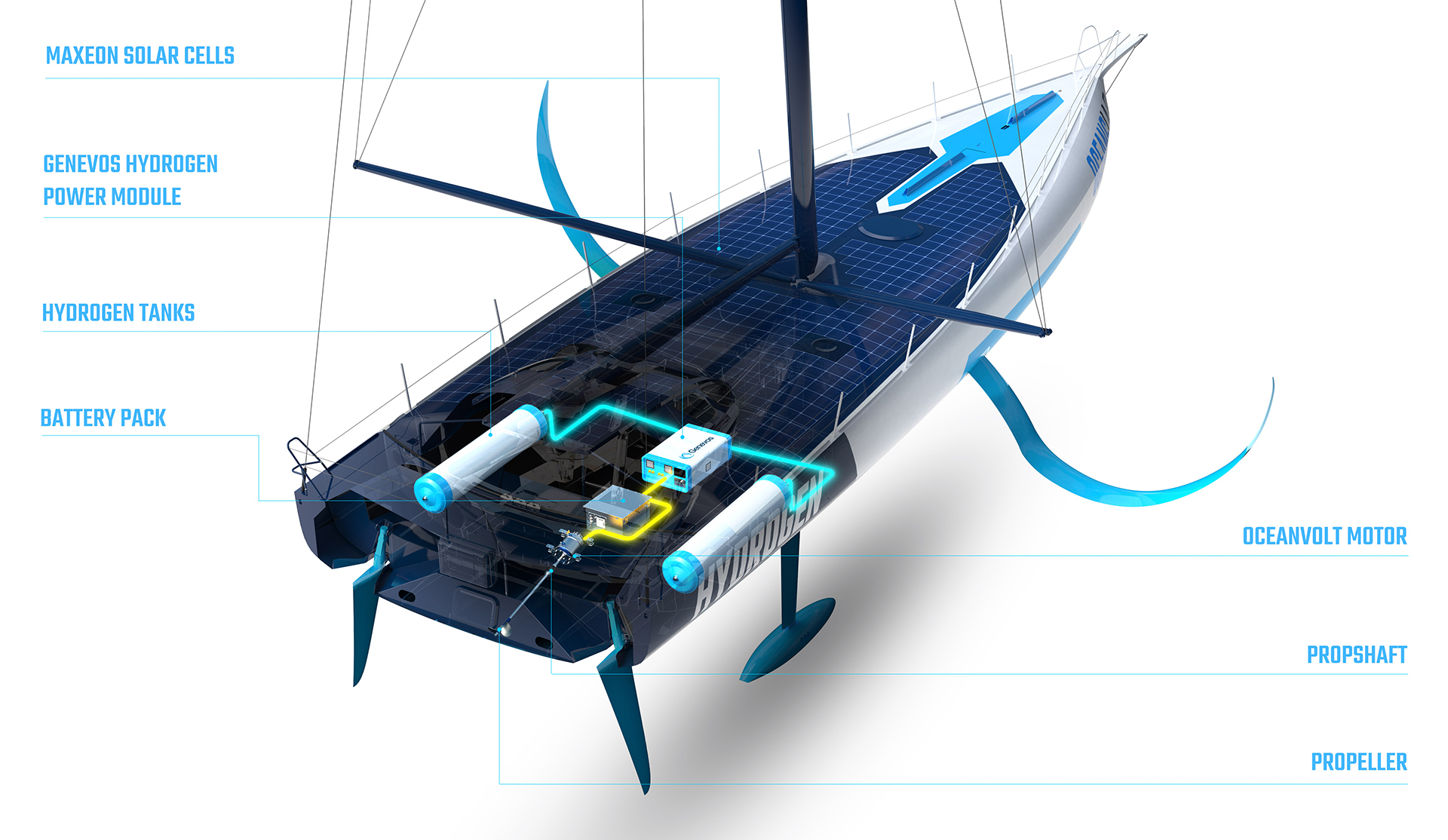 The IMOCA's clean energy system offers considerable energy security through multiple sources of renewable energy capture (sail, solar PV, and a hydrogenator), storage (hydrogen and li-batteries), and power generation (hydrogen fuel cell). The complete system enables zero emissions for both propulsion and auxiliary power, with a total combined peak power of 20 kW.
The OceansLab clean energy system enables the IMOCA to motor for an average of 6 knots (10 kW) for 24 hrs, achieving a practical motoring range, consistent with standard diesel-powered yachts and considerably more than the IMOCA safety requirement of 5 hours at 5 knots.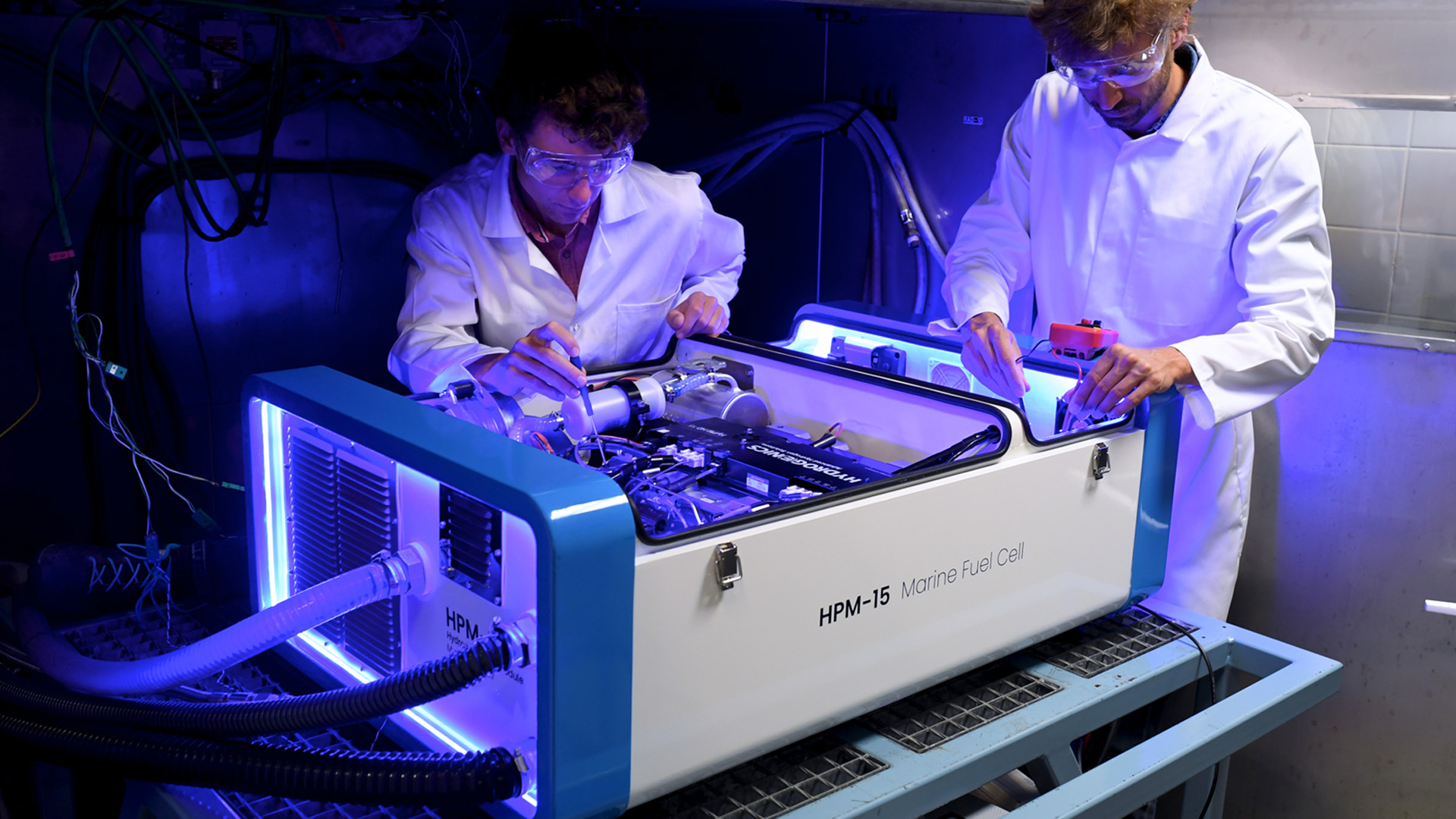 Green hydrogen, made from renewables, is stored in two tanks at 350 bar, which feed the Genevos Hydrogen Power Module ('HPM-15'), optimised to a rated power of 10 kW. The Hydrogen Power Module converts oxygen and hydrogen into electricity using a fuel cell. This energy conversion is based on a chemical reaction, in place of burning fossil fuel to create power. The electricity is used to power the propulsion system, re-charge the li-batteries, and also supply power to the auxiliary systems.
SOLAR, BATTERIES & HYDROGENERATORS
An array of marinised and impact protected solar PV Maxeon Nc Cells integrated into 16 m2 of the deck captures energy from the sun, with a total power rating of 3.6 kW. This, combined with the energy captured from a 600 W hydrogenerator is used to charge the batteries, providing further energy security.
Outside of racing, when the boat is motoring, the batteries support the Hydrogen Power Module for instant power and maximum propulsion when accelerating or manoeuvring in port.
Join us on social media and subscribe for the latest in racing and cleantech developments