Single-handed ocean racer Phil Sharp shares his learnings on keeping morale and motivation high to achieve results in periods of extended isolation
Key messages can be transferred from ocean racing to land as people move into isolation to support the fight against COVID-19. Adapting to change is a daily routine for an offshore sailor, and so Phil Sharp shares his top tips on how to live productively in an isolated and turbulent environment:
1 – Staying positive and looking ahead
In the event of a significant change in the environment or a major disruption, a positive mind-set is essential as it enables you to adapt quickly and keep moving forward. It is important to realise that the competition is also in the same situation and that any advances made in the event of a set-back, no matter what size, can be amplified when things are back up to speed.
One good example of this was sailing through the doldrums in the 2017 double-handed Transat Jacques Vabre from France to Brazil. After a week building a 40 mile lead we reached the equator and became victim to this notorious windless zone. The remainder of the fleet caught up, we lost our entire lead and it was effectively a race re-start.
It was bitterly frustrating to have lost our advantage, but we had to look forward and not give up hope. In the intense tropical heat we battled through tiring conditions by maintaining focus, keeping spirits high, and making the most of every puff of wind to keep advancing. Our competitors faced the same challenge and so even an additional 0.1 knot of speed made a big difference, particular when sometimes we were all sailing at less than 1 knot! Four days later, this very small margin on the fleet converted into a 20 mile lead and our efforts paid enormously.
2 – Structure and routine
Self-discipline and routine are essential in structuring a day to achieve satisfaction through good productivity and efficiency in an isolated environment.
When I am at sea I have a fixed 24 hour routine based on navigating, setting daily objectives, sleeping, eating, stretching, and communicating home. This I find really helps break-up the day with key moments and above all it gives me consistency. Of course when the odd gale or storm hits and I need to focus more on managing the boat it is difficult to be entirely rigid, but this structure at least provides me with a base plan. Importantly, routine ensures that I follow a checklist so I know that I am doing all I can to achieve my goals.
3 – Regular communication
Loneliness and the feeling of being disconnected from humanity is something that can really start effecting you in isolation.
I have found that maintaining communication with family, friends, or members of the team can make a huge difference to maintaining a positive mind-set. Fortunately, digital communications on land are significantly better (and cheaper!) than on the ocean, but for me the occasional call on the satellite phone and email is so effective for reigniting that sense of belonging, purpose and for keeping morale high.
It is also important to remember that you're not alone. Keeping an eye on the competition can be especially motivating, benchmarking them for performance and bringing comfort in hard times that 'we're all in it together'.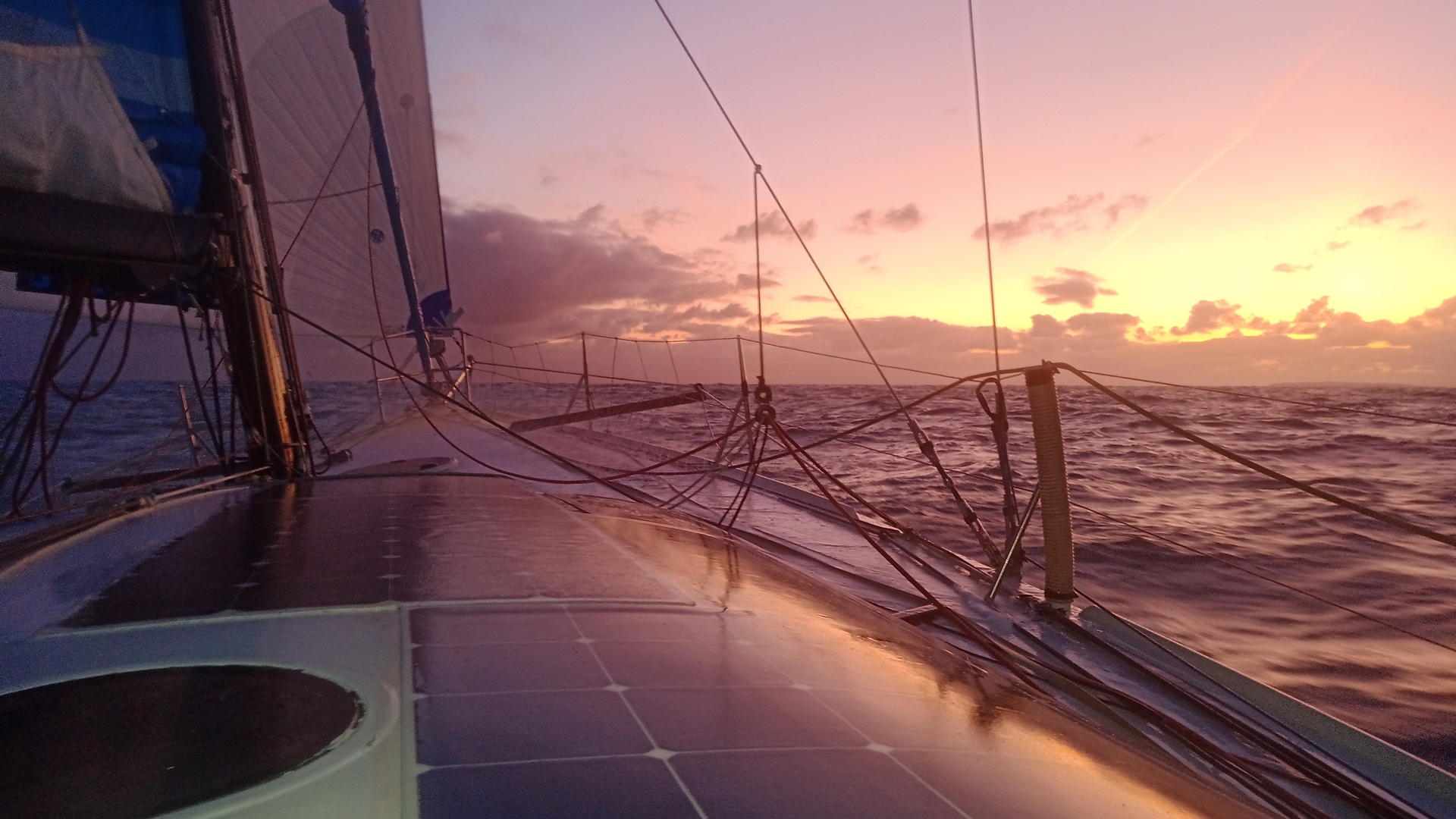 4 – Refocusing energy
It is common for major setbacks to occur in ocean racing and during these periods rather than coming to a standstill it can be hugely beneficial to refocus your resources and energy elsewhere. Downtime can offer the ideal opportunity to take stock of a situation and allow some all-important creativity for planning the road ahead. As is particularly the case when solo sailing, there is never time to do everything and often the planning, strategy and maintenance can get easily overlooked in place of more urgent matters.
In the 2016 single-handed Transat from Plymouth to New York I had a major setback after being issued a 6 hour penalty for sailing into a 'no-go zone'. This meant that I would lose my lead and it was important at this point to keep busy and look forward. Stopped mid-Atlantic, I used this time to give the boat an overhaul and discovered a critical rudder fitting was loose. This repair job enabled me to finish on the podium, rather than being forced to retire from the inevitable loss of a rudder.
5 – Adapting to change
When faced with a threatening situation or challenge it is important to keep level-headed and open-minded in adapting to this change. Importantly, focusing on factors that can be controlled, and preparing for a change in the environment.
At sea you are quickly taught to respect the enormous powers of the ocean, which dictate a constant change in conditions. Accepting and finding a rhythm to best work with the environment is key, rather than fighting against uncontrollable forces.
A big concern for an offshore sailor is how best to avoid storms, which can produce 10-12 metre waves that might roll your boat upside-down and even destroy it. In the same solo transatlantic race to New York, the fleet left the pontoons expecting a fast and fun ride into the middle of the Atlantic. However, this was not to be the case. Three days later an un-forecast storm turned to head in our direction and was expected to hit that night. I adapted my strategy quickly to avoid the worst of the breaking seas and high winds, and focussed on keeping the boat at a manageable speed. During the night I took back the lead not by sailing particularly fast, but by being the first to adapt to the change.
Often in ocean racing, within every threat lies an opportunity to advance on the competition, and it is the ability to adapt and optimise strategy that is key to success in a fast changing environment. In this period of isolation and turbulence I hope that these five principles can help provide some structure in achieving your goals.
Phil