After nine years OceansLab skipper Phil Sharp returns to compete in the four-staged La Solitaire du Figaro event starting at 13:00 CEST this Sunday. Over four days the first of four races will take 35 single-handed sailors on a 642 mile voyage from Saint-Brieuc to Fastnet Rock and back.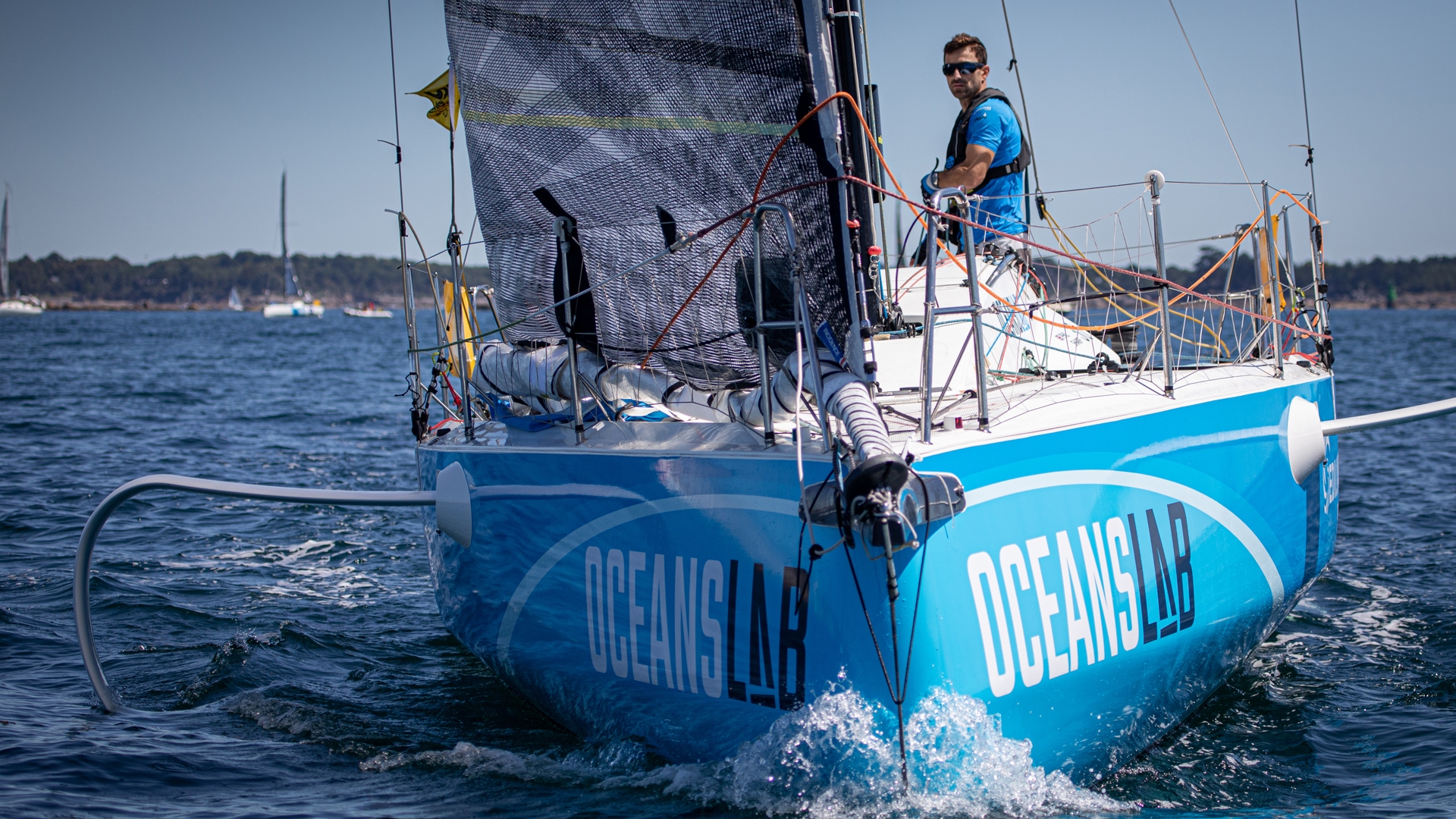 Phil Sharp – Figaro 3 OceansLab – Credit Vincent Olivaud
Just one waypoint at Fastnet Rock has been assigned to this offshore course leaving strategy very open to the skippers from start to end. With a multitude of tactical possibilities available, success will rely on finding the right balance between a fast route maximising on different weather systems, whilst avoiding the traps of the Channel and Celtic Sea. Shipping lanes, restricted zones, rocks and currents are core navigational challenges the skippers will face to ensure a fast and safe strategy.
"Interestingly, this leg more resembles an offshore race than a typical coastal Figaro course, so it will be interesting to see the various routes the fleet adopt and where gains are made and lost.
"This first race will be especially tactical. Early on we will be faced with a difficult no-wind zone to cross in the Channel before breaking through into strong south westerly winds, which will carry us up to Ireland. What's more, we will pass the Scilly Islands twice, which brings added complexities of strong tides and variable winds." Commented OceansLab skipper Phil Sharp.
After competing in just two training races aboard the Figaro 3, heading into several weeks of competitive racing in this high league circuit will most definitely continue Sharp's steep learning curve in the class.
"The two training races were valuable in identifying areas to improve on the boat and for my personal development. Shifting from ocean to coastal racing demands a different mind-set, which I feel more adapted to now.
"I feel mentally ready to take on this considerable challenge, accepting that it will push me well outside of my comfort zone and push my fatigue to new limits. It will be a very intense race of furiously close competition and no doubt a roller-coaster ride of ups and downs. The limited recovery time in between the four stages means that both consistency and endurance will be key". Confirmed Sharp.
How to Follow
Follow Sharp's journey as he takes on what has been referred to by Vendée Globe winners as the hardest race in the world, La Solitaire du Figaro.
Schedule
Full course map
Leg one:
Saint Brieuc – Fastnet Rock – Saint Brieuc
Sunday 30th August 13:00 CEST – Thursday 03rd September
642 nm
Leg two:
Saint-Brieuc – Dunkerque
Sunday 06th September 11:00 CEST – Wednesday 09th September
497 nm
Leg 3:
Dunkerque – Saint-Nazaire
Saturday 12th September 17:00 CEST – Wednesday 16th September
504 nm
Leg 4:
Saint-Nazaire – Saint-Nazaire
Friday 18th September 18:30 CEST – Saturday 19th September
183 nm