OceansLab announce a new partnership with the Government of Jersey following the announcement of the world's first hydrogen IMOCA yacht construction in January.
A zero-carbon consortium will be established with the Government of Jersey, Ports of Jersey and OceansLab to support the island's net zero commitments.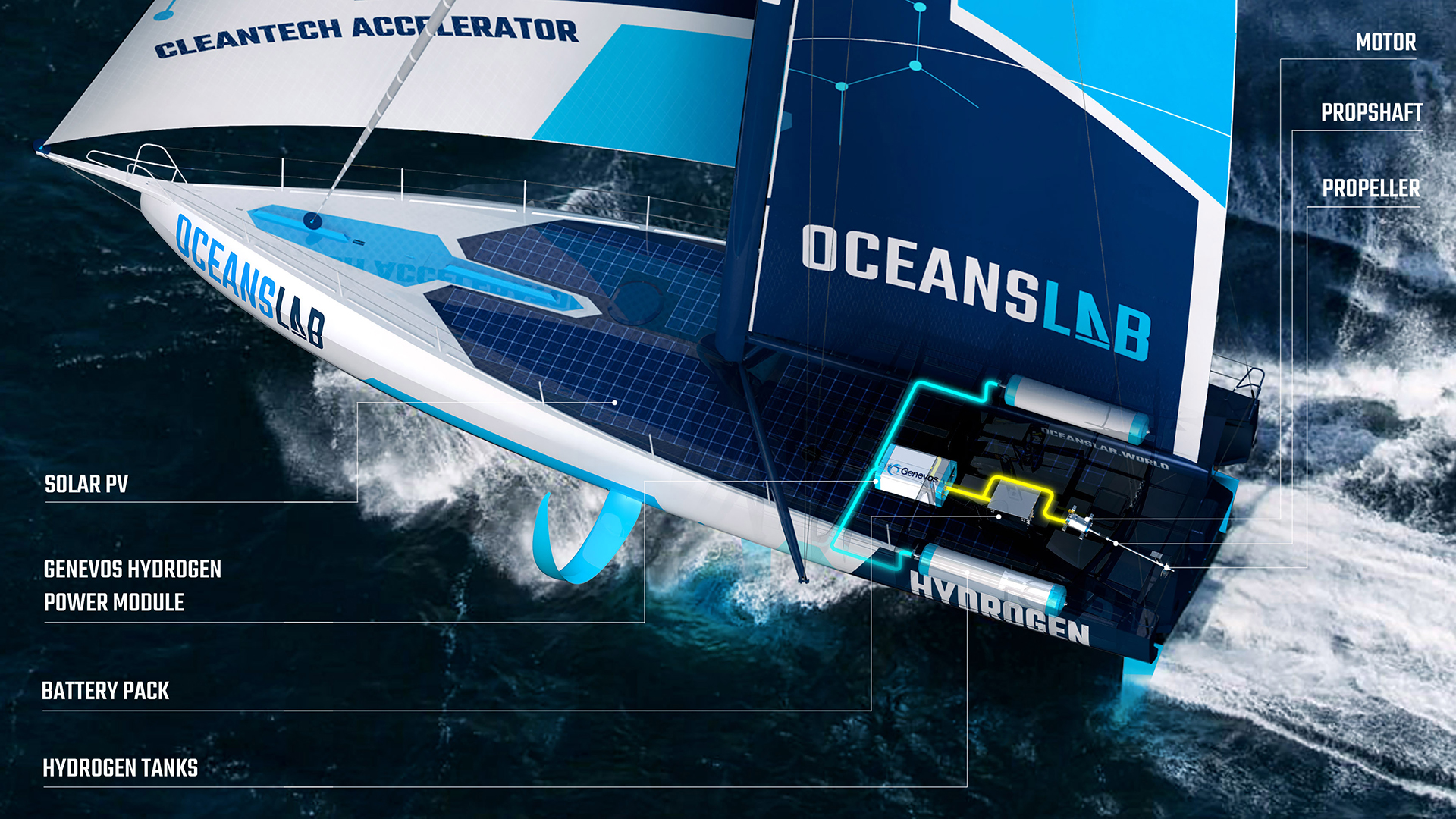 OceansLab – Cleantech Accelerator, clean energy system
The Government of Jersey is demonstrating its commitment to decarbonisation and a net zero future by partnering with marine hydrogen accelerator OceansLab in collaboration with Ports of Jersey.
OceansLab, led by Jersey round the world yachtsman, Phil Sharp, develops clean technologies through professional ocean yacht racing. A zero-carbon consortium will be established in Jersey, which will see the Ports of Jersey and OceansLab investigate the use of hydrogen technology on port infrastructure and vessels including ferries, service vessels (tugs, dredgers, lifeboats) and cargo ships.
The agreement also includes educational opportunities for Jersey-based students through sailing experiences, internships, and an apprenticeship programme, as well as school visits and presentations on subjects with a focus on renewable energy innovations and ocean health.
Chief Minister, Deputy Kristina Moore, said: "As a small island, Jersey is highly dependent on transporting both freight and passengers through the harbour and airport. Jersey has committed to meeting net zero commitments in line with both the Paris Agreement and Carbon Neutral Roadmap, and we are keen to explore new options for accelerating a move to sustainable aviation and marine fuel.
"This technology feedback-sharing agreement with OceansLab will enable knowledge and technology transfer to accelerate the commercial application of hydrogen technology for use in the maritime industry, and potentially in other transport like buses and heavy goods vehicles.
"If we can learn from others and share expertise, we can be at the forefront of the global transition to net zero."
Phil Sharp, CEO and skipper of OceansLab said: "It is exciting to be working with the Jersey Government through the application of important clean innovations and supporting them on their net zero commitments.  This partnership will really explore how we can apply hydrogen fuel-cell technology and green hydrogen fuels to start decarbonising the island's maritime industry as well as its wider transport applications.
"The strong winds and tides offshore around Jersey provide enormous potential for Jersey to reach net zero and become more energy resilient with hydrogen, and the opportunity to take the lead as one of the first islands to do so."
Ports of Jersey's work to trial hydrogen as a maritime fuel builds on its existing collaboration with Universal Hydrogen and Blue Islands, which is trialling the use of green hydrogen as an aviation fuel. Now, by working with technical experts from OceansLab, Ports of Jersey is aiming to make the same progress on decarbonising sea transport.
A new tugboat will be needed next year for towing, patrol, and maintenance duties around the harbour. Ports technicians will work with OceansLab to test the applicability of hydrogen fuel cell technology to a small tug.
Ports of Jersey's CEO, Matt Thomas, said: "Our main role is to keep Islanders connected with the rest of the world, and it's our responsibility to work towards sustainable, decarbonised travel. We want to be at the forefront of providing truly sustainable travel, and we have been working with Universal Hydrogen and Blue Islands to achieve this for aviation.
"Now we are sharing the knowledge and technology needed to use green hydrogen in the marine industry.  Initially, we will be exploring the possibility of powering our next tugboat with hydrogen, but this is the first step towards a zero-emissions marine industry which will ultimately benefit Islanders and the planet."