Construction of the OceansLab IMOCA hull complete and boat now entering the final systems installation phase.
OceansLab set to compete in the solo transatlantic race, the Retour à La Base, qualifier for the Vendée Globe 2024.
Growing collective of partners focused on supporting positive environmental change.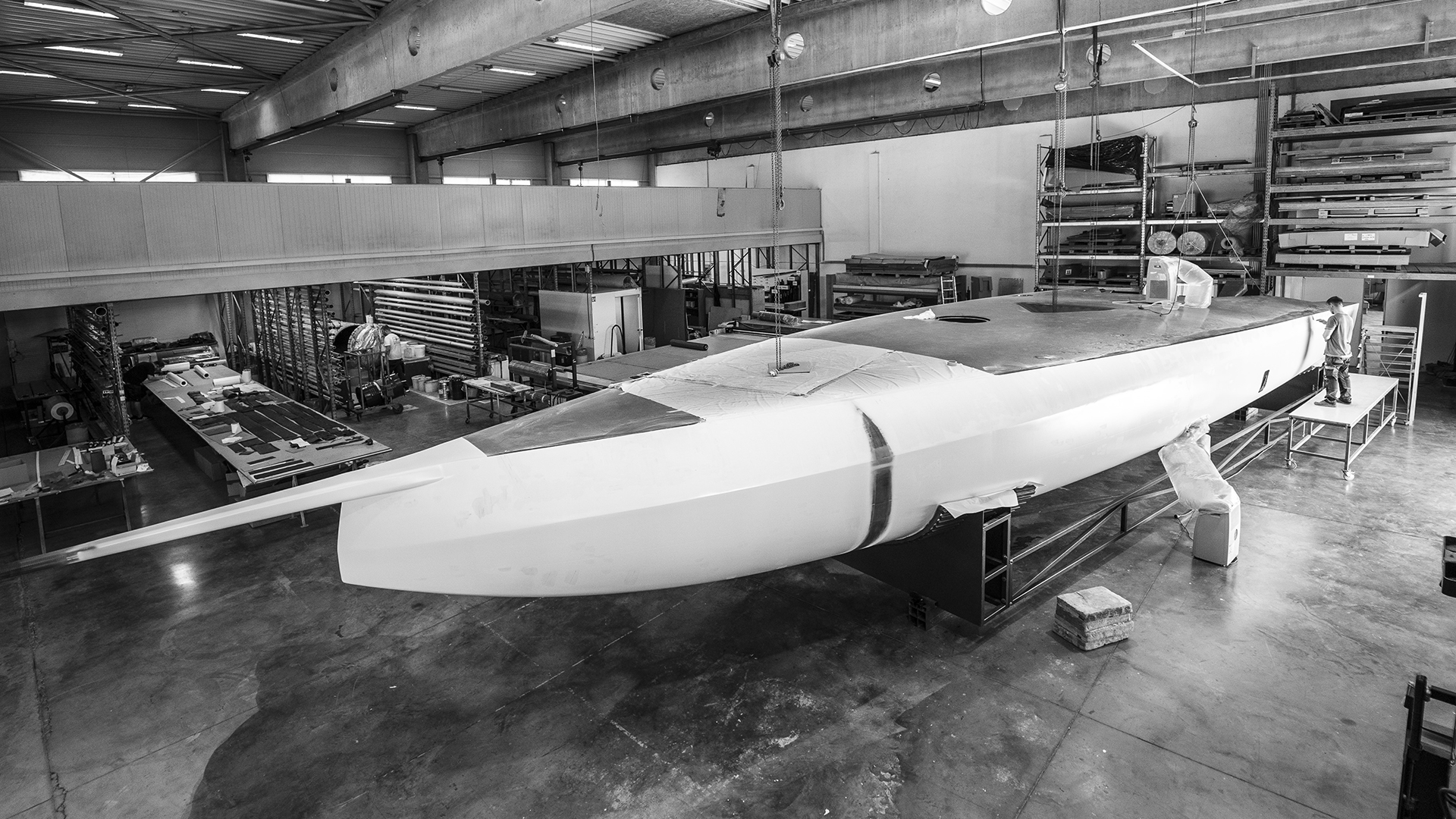 OceansLab IMOCA – hull and deck join complete
Photo credit: Joka Gemesi/Pauger Carbon Composites
Innovative zero-emission boat build nearing completion
The structural assembly of the deck and hull of the 60-foot foiling OceansLab IMOCA, a third evolution Manuard design, has now completed at Pauger Carbon Composites boatyard. The IMOCA will now be transferred to Black Pepper Yachts in Nantes, to complete the final fit-out, with hydrogen integration specialists Genevos installing the complete energy system.
Following the millimetre precision placement of the ring frames, the hull of this game-changing zero emission racing yacht, was carefully removed from her mould in April. During May and June some twenty bulkheads and other supporting structures made from prepress carbon-epoxy with a lightweight nomex core, were installed. In parallel, June and July saw the build of the deck and integrated cockpit, which took a solid two months to manufacture from start to finish.
With all the internal structure, foil supports and keel support completed, the build team has now joined the deck to the hull, marking the end of the eight-month structural build that began when fibre was first laid into the mould. Now the focus is on systems installation of the rigging, deck gear, electronics, hydraulics, and the energy system.
"This is a hugely important milestone for the entire team, particularly for the structural build team at Pauger Carbon Composites, who have worked long hours with great care and precision. My hat goes of to this very passionate and committed team, who live and breathe performance and quality – essential qualities for producing a highly competitive racing machine capable of taking on the world's most punishing ocean conditions." Comments Sharp.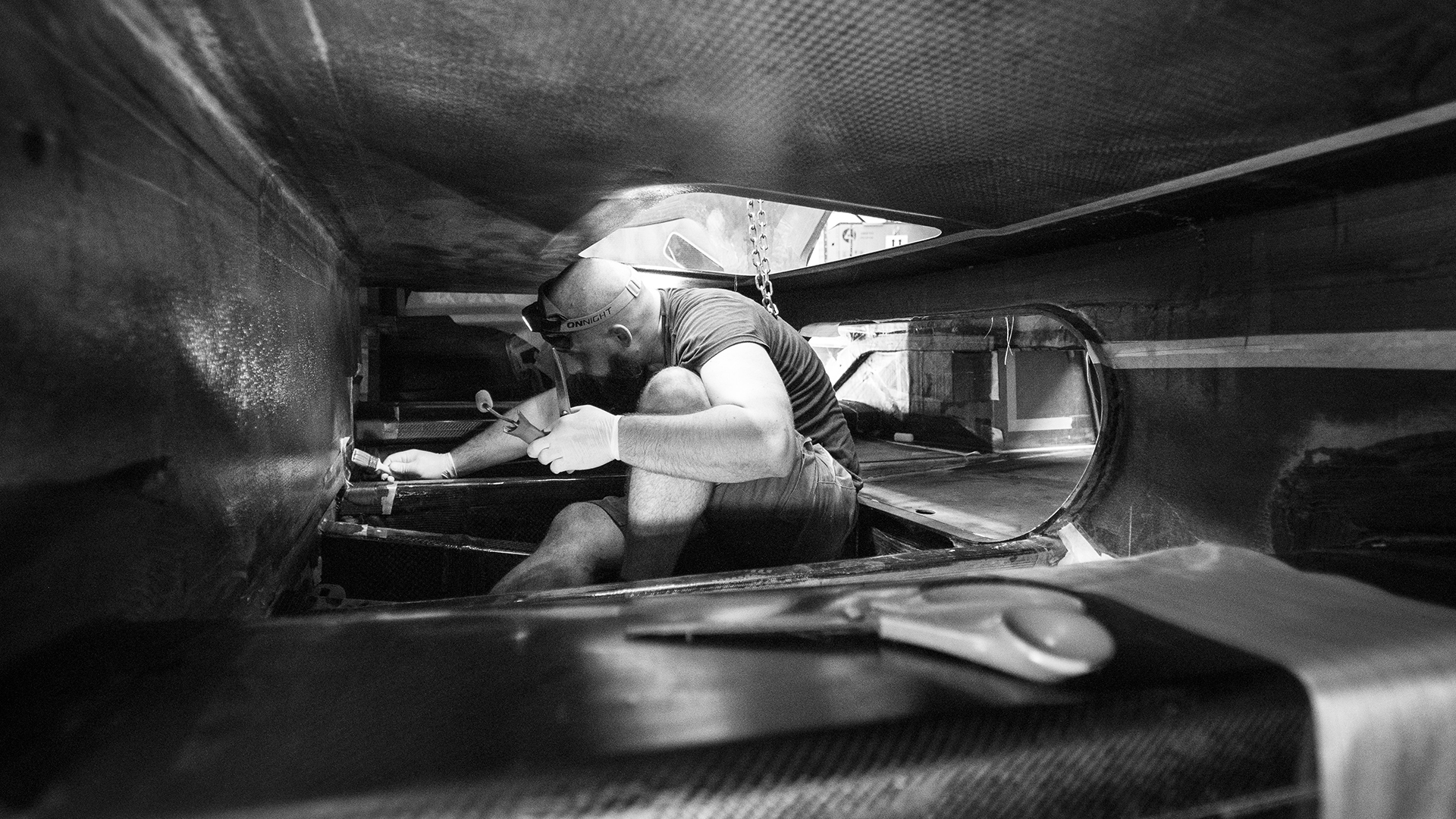 A passionate and committed team of builders
Photo credit: Joka Gemesi/Pauger Carbon Composites
OceansLab set to compete in transatlantic Vendée Globe qualifier: Retour à La Base
OceansLab is set to take part in Lorient's brand new single-handed transatlantic race, Retour à la Base, which will start from Fort-de-France in Martinique on the 26th November. As well as serving as the qualifier for the Vendée Globe 2024, the race is also part of a fair-trade scheme to transport goods across the Atlantic under sail (https://www.imoca.org/en/retour-a-la-base).
"This transatlantic race will be my first ever solo race on an IMOCA, and I am excited to get racing, not only because of the importance of completing the race to qualify for the Vendee Globe, but also the enormous personal challenge of racing a new foiling rocket-ship, that will push me right to my limits.
"We are completely focused on hitting that start line in Martinique with a boat and skipper fully ready to attack this fast-paced transatlantic race, that will no doubt present some tough conditions, especially in the final stretch to the finish line in France." Sharp continued.
Partner with OceansLab on its mission to accelerate decarbonisation in the marine sector
OceansLab's vision is to advance and demonstrate vital clean tech solutions to help reduce maritime emissions. The launch of the 60-foot foiling IMOCA at the end of next month will make this vision a reality.
With the Government of Jersey already on board as a Decarbonisation Partner and, with Maxeon Solar Technologies, Oceanvolt and Genevos supporting as Cleantech Partners, OceansLab is looking to collaborate with other organisations who, in addition to sharing a spirit of adventure, are also passionate about working towards cleantech advances in both the marine and wider environments.
"It is only through strong collaboration and a positive approach with forward-thinking organisations that we can find solutions to start shifting rapidly to clean energy and reach targets agreed by the International Maritime Organisation. These new agreed targets strive by 2030 for a 30% reduction in emissions and for 10% of shipping to be powered by zero emission technologies, but to achieve this we must act now, and start supporting and investing in vital cleantech." says Sharp.
Contact the partnerships team for more information: info@oceanslab.world