Two-times world record holder Phil Sharp is on standby to attempt the Around Isle of Wight world sailing speed record and will also be raising awareness of the urgent action required to reduce maritime air pollution along the UK coastline, and in busy ports such as Southampton.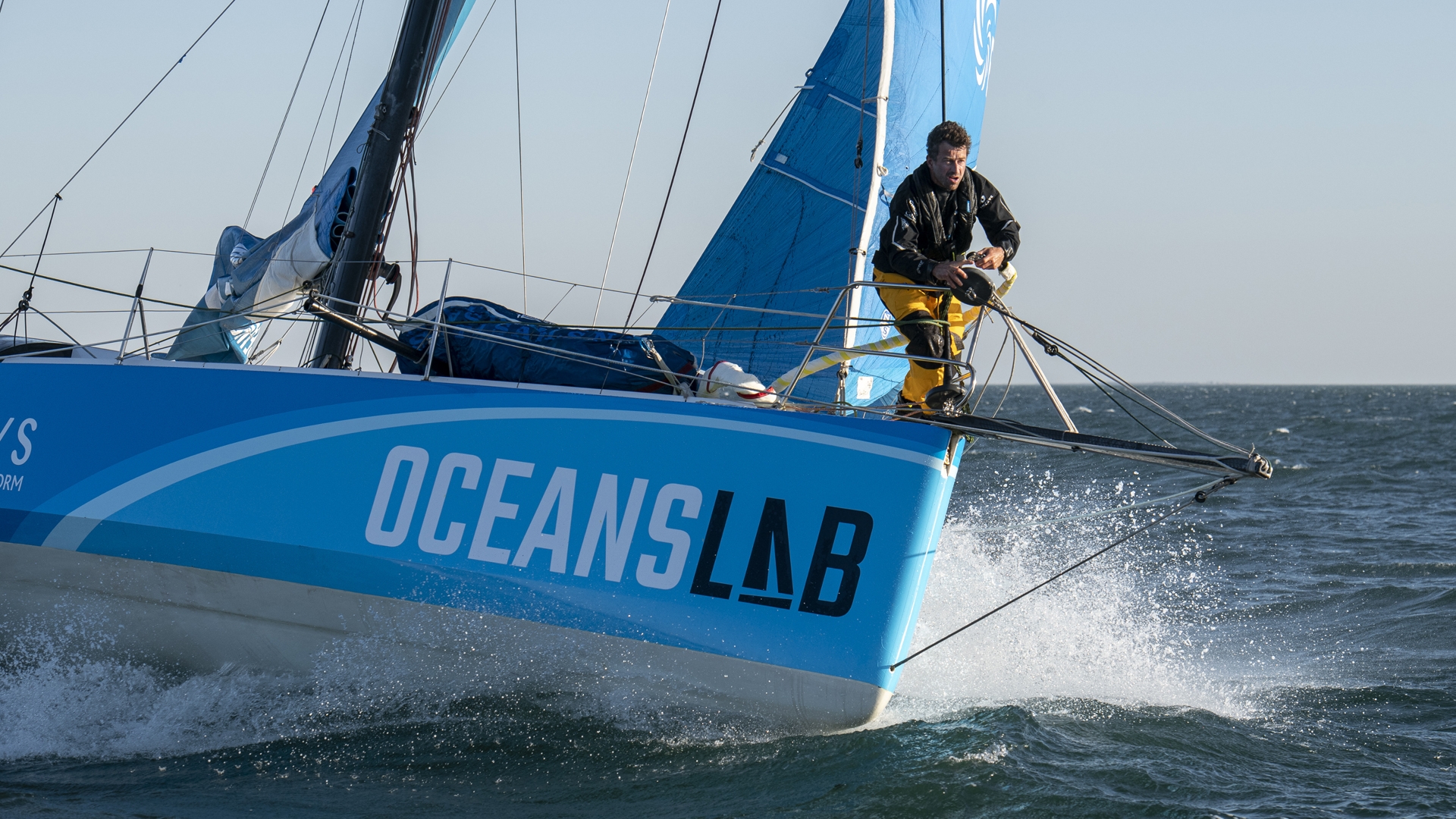 Credit Olivier Blanchet Photographie
Sharp will be attempting the record single-handed aboard his newly electrified zero emissions vessel, OceansLab, for which he aims to break the existing benchmark time of 6h 29m 32s set in 2017 by skipper Alex Alley.
In attempting the record Sharp importantly aims to draw attention to the dangerous levels of air pollution around major ports and sea routes in the UK, which are four times higher than previously suggested, and the urgent need for policy makers and shipping companies to reduce coastal and in-port emissions to zero.
The Around Isle of Wight record routes through the UK's second busiest shipping zone where toxic emissions from ships (cruise liner and cargo) are a significant cause for health and environment concern. Research has shown that 30% of the pollution in UK port towns can come from ships, and that long-term exposure to the nitrogen and sulphur oxides (NOx and SOx) released has been linked to the deaths of around 40,000 people in the UK annually.
"The positive news is that the shipping industry now has regulation to significantly reduce the sulphur emissions of ships from 2020, and there are some key players in the sector trying to accelerate change." said Phil Sharp, Skipper of OceansLab. "However this doesn't limit continued high levels of NOx and CO2 emissions close to the coast and particularly in port when ships are burning several tonnes of fossil fuels every hour – just to power their onboard systems. Effectively they are like mini floating cities."
OceansLab aims to raise awareness of the scalable solutions that can be embraced to decarbonise the sector and to help drive innovation forward. The Class 40 race boat is currently fitted with an electric propulsion system, battery storage, solar PV and a hydro-turbine. In parallel, a hydrogen fuel cell prototype is being installed on the boat which has been recognised by the Global Maritime Forum as a vital scalable technology for the introduction of Zero Emissions Vessels (ZEVs) and enabling carbon emissions to be reduced to zero by 2050 in line with global climate change targets.
According to the United Nations, around 90% of world trade is transported on our oceans, accounting for 2.5% of global greenhouse gas emissions, compared to aviation at 2%.
"In order that oceanic transportation is made sustainable we need demonstration projects like OceansLab to show what is possible. Coastal regions near shipping zones are the worst hit and as the ocean is my working environment I want to demonstrate that zero emissions transport is possible." Said Sharp.
The record attempt is on standby, in Code Red status until a suitable weather window has been identified, at which point OceansLab will move to Code Amber and finally Code Green to declare an estimated start time. This record follows on from Sharp's successful Round Britain and Ireland world record that was set last year, and from his single-handed Cross-Channel outright monohull world record set in 2016.
Sharp will be delivering OceansLab to Southampton's Ocean Village this week where final preparations will be made ahead of the record attempt.
HOW TO FOLLOW:
Go to the official website at www.oceanslab.world to follow the record live with boat tracking and updates from Phil Sharp aboard OceansLab on social media.